CHAIRMAN'S MESSAGE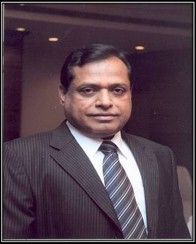 Dr. G.D POL-CHAIRMAN
"REACHING for the SKY and beyond"
Dr. G. D. Pol Foundation's YMT College of Management was established under the aegis of Yerala Medical Trust and Research Centre by Dr. G.D. Pol, a visionary, in the year 2006.
YMT College of Management recognizes the fact that India is an economic super power and that the whole world has started realizing and respecting India's vast talent pool. The changing global business environment and the various complex forces operating in India have generated the need for professional managers.
YMT College of Management supports the quest for knowledge which empowers an individual and helps one to accelerate one's own development. YMT College of Management provides the best of infrastructure and faculty to hone the skills of students and prepare them to face challenges with courage, competence and commitment. The Institute offers the right atmosphere for learning and I encourage you to utilize the physical and intellectual resources available to develop your potential.
I believe your journey at YMT College of Management will be rewarding and enriching.
Dr. G. D. POL
( Chairman )
Testimonial
Hats off t o YMT for arranging such wonderful guest lectures. Thanks for everything
The professors are really, really fantastic and reignited my interest in studies.
The budget discussions by expert panel, were such value additions to the degree?
A-B-School with an excellent environment, the incubation ground for future visionary leaders. Students are given full scope to manage and execute various cultural and other development based programs.
Mr.Sandeep Desai
Executive Vice President (Information & Process Group) - TATA
A perfect fusion of the oriental and the occidental is how one can define the culture here. This college captures the true spirit of India Today. Rahul Sinha, VP - Learning and Development Petroleum Refining and Marketing Business,
An institute which transforms young men and women into able citizens contributing to national development. Ramakrishna Iyer, Vice president marketing,
Formerly Zandu
ZCL chemicals Ltd.